New Web Layout... again
Apr 16, 2023
Welp, it's been a long while, but I did it. Gonna update it as it goes on.
---
Found a new show to watch
Feb 11, 2023
A few weeks ago, I started watching Malcolm in the Middle. I think it's pretty good so far.
---
Still not happy with this website layout
Feb 4, 2023
I still can't take it anymore. I need to change it to something more simple, but yet so complex the more you go into it. I'm thinking of something like the old BrainPOP website from the mid-2000s (picture below)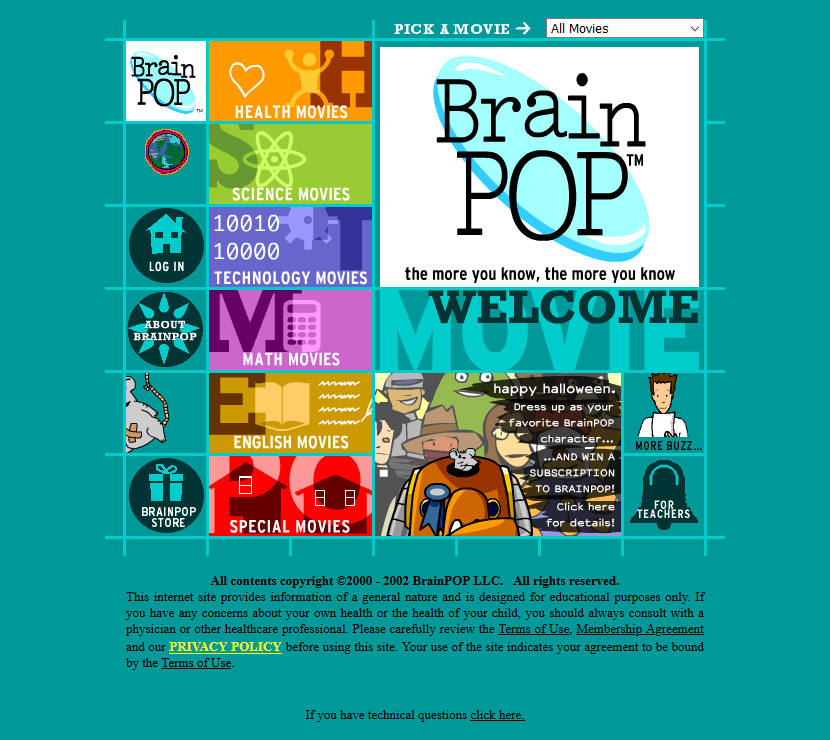 I'm also thinking of adding little animations to some parts of the experience.
---
Friday Night Video
Jan 20, 2023
I had an idea to make a variety sketch show every other friday, and anyone can help work on it. Currently starting the project with a few of my friends.
---
New Camcorder
Jan 15, 2023
About 2 weeks ago, I found a Sony DCR-SX40 Handycam in my basement. I couldn't find the charger so I had to buy a new one. Today the charger arrived at my door and charged the battery, Luckily, the camera still works despite not being turned on in nearly a decade. I could already imagine the possiblties.
---
I finished the new layout
Jan 14, 2023
I finished the new layout after days in the making. There's still gonna be some updates here and there, maybe another web layout, idk.
---
I want to make a comic: Update
Jan 10, 2023
I figured out a name for it: The Comik. Expect panels after the new website update.
---
I want to make a comic
Jan 10, 2023
I thought of a comic idea of the most random shit. Totally hasn't been done before
---
New Website Layout?
Jan 3, 2023
Ngl, I hate this website design. I wanted to change it to something more, maybe with a little more... pizzazz? idk, but I hate the current one, so I'm gonna try to change it... starting with the Disregards ad with a typo.
---
Trying to find a show to watch
Dec 30, 2022
I finished Better Call Saul a few weeks ago (good show btw), and now I have nothing else to watch. I have thought of a few shows to watch like Seinfeld, Community, and maybe the Office. I'll tell you all what I'll watch soon.
---
Hi
Dec 29, 2022
I just made this website, pretty cool right?
---